Online Store
Dear Customers,
It is with a heavy heart that we announce that we will no longer be shipping mail order Christmas trees and wreaths going forward. Mail order trees and wreaths have been a large part of our business since 1995 so please understand that this was not a decision that was made lightly. We have really enjoyed the interactions we have had with all of our customers across the country over the years and we thank you for all the loyalty and support. Weir Tree Farms is still an expanding Christmas tree farm and nursery and we plan on being here for many more years. However, all sales will either be wholesale or retail here at the farm.
There are two main reasons this decision was made. Number one... the shipping costs for each tree and wreath have become exorbitant. We initially tried to combat this by not offering the taller Christmas trees, but as of last season even the 6 foot trees were drawing oversize charges. We have explored other shipping companies, but logistically they are not viable options due to our location and their prices were about the same. Now, even on the wreaths, we are being charged $10-$15 extra in surcharges on top of the normal shipping costs. The high shipping costs are a problem we do not see being resolved any time soon.
Number two... boxing mail order Christmas trees and wreaths is by far one of the most labor intensive parts of our business. Simply put, we do not have the large labor force we once did. It has been a struggle since 2020 to just get our Christmas trees harvested and our wreaths made... preparing them for shipment on top of that a complete nightmare. Unfortunately, many businesses struggle with this same issue and Christmas tree farms have not been immune.
Once again, we will miss all of the phone conversations and e-mails. Many of you have been a part of our lives for over twenty years! If you ever find yourself in northern New Hampshire and in need of a Christmas tree our farm is always open from mid November until mid December. We also truck the majority of our trees all over New England to countless nursery and garden centers - feel free to call for a list if that is a feasible option for you and your family. Thank you all again from the bottom of our hearts - a business cannot be successful without its customers.
Jay and Christie Weir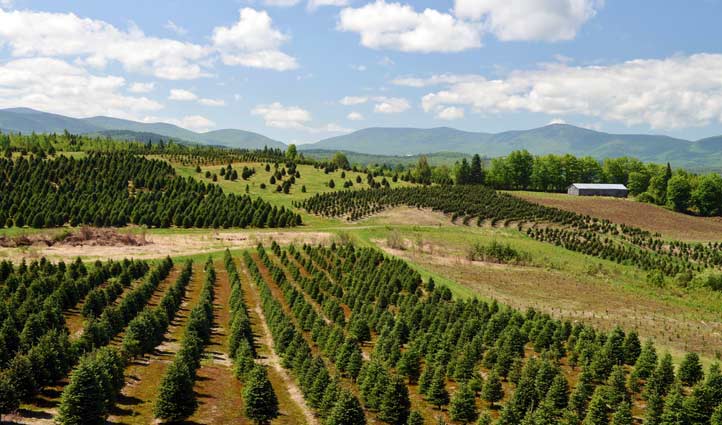 Please call 1-800-962-7911 toll free for more information or visit our farm in scenic Colebrook, New Hampshire.