News from the Farm
Hello from Weir Tree Farms! We hope this newsletter finds all of our customers and their families in good health. The Covid 19 pandemic has definitely been challenging and unpredictable for many people in many aspects of their lives and we truly wish everyone the best. Living in Coos County we have had less than 10 cases since March and the numbers in New Hampshire continue to improve overall. We acknowledge how fortunate we have been and we have been working hard to ensure that the farm keeps operating and is able to provide our customers with quality products.
The 2021 nursery prices have been set and can be found on our Christmas tree planting stock page. As has been the trend for the past few years, we are already sold out of some species of transplants. Christmas tree planting stock is in high demand throughout the country and there will be a shortage of transplants for the next several years - we cannot stress how important it is to order early. Our crew worked hard this spring and we were able to plant 30,000 trees. We had an extremely hot, dry June and our smaller transplants and seedlings did not fare so well. We always plan on about 10% mortality in the newly planted, but it is still hard to witness when so much hard work has gone into putting them in the ground.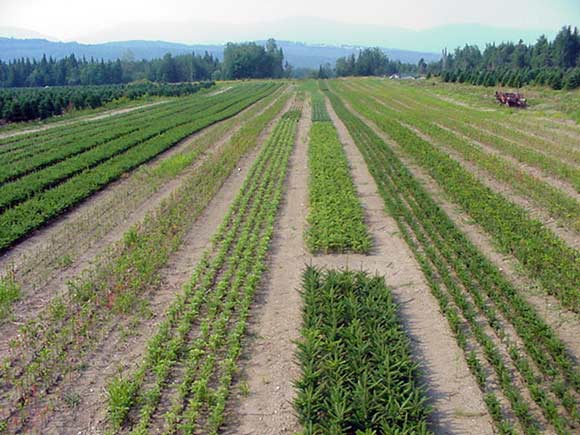 On September 7th our online store will be live and accepting orders. In addition, we will be mailing our annual reminders out to our returning customers in mid September. There is a huge change in our mail order Christmas tree offerings this season. We will no longer be offering Christmas trees taller than 7 feet. We were unable to come to terms with our primary shipper regarding the larger trees and the cost of shipping them would be prohibitive. We are very sorry for the inconvenience and it deeply saddens us to not be able to offer them anymore.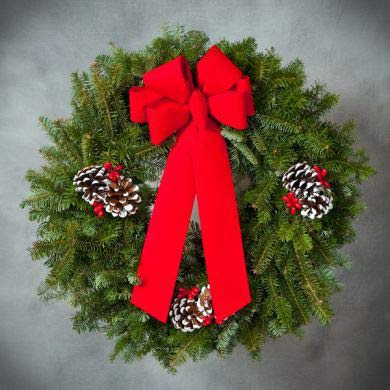 Last year we were sold out very early on in the season again - ordering early is key. We are still offering an early order discount if you place your order before October 15th. You will also notice that our wreath selections are a little more streamlined and not as diverse as they have been in past years. Due to Covid 19, we have had more difficulty in securing our decorating supplies. This could be something that changes later on in the season, but as of right now we cannot offer certain designs without some certainty that the supplies will arrive in time.
Currently, our hardworking crew is putting in 50+ hour work weeks to get all of our shearing "pruning" done. We shear all of our trees manually with long knives - there is no mechanization to this process. It is simply hard, grueling manual labor. They will continue shearing every day until our harvest begins. They are some of the hardest working men we know and we deeply appreciate each and every one of them.
Our boys, Jackson and Cooper, are now thirteen and ten years old. They survived remote learning with their mom as "teacher" and their dad as "principal"! They were real troopers and although at times the whole situation was very trying it made us realize how blessed we were to have the kids that we do. They complained little and worked a lot. Due to being home schooled, their schedule was flexible and they were both able to work during the nursery season. We are not sure if they enjoyed the work, but they definitely enjoyed the paycheck! Their big project for this summer was the farm stand they built on their own with scrap materials they found around the farm. They currently are selling bundled firewood, fresh picked blueberries, and apples. They have enjoyed great success with their new venture and we are really proud of their entrepreneurial spirit. As always, feel free to e-mail, call or visit. We hope to hear from you all very soon!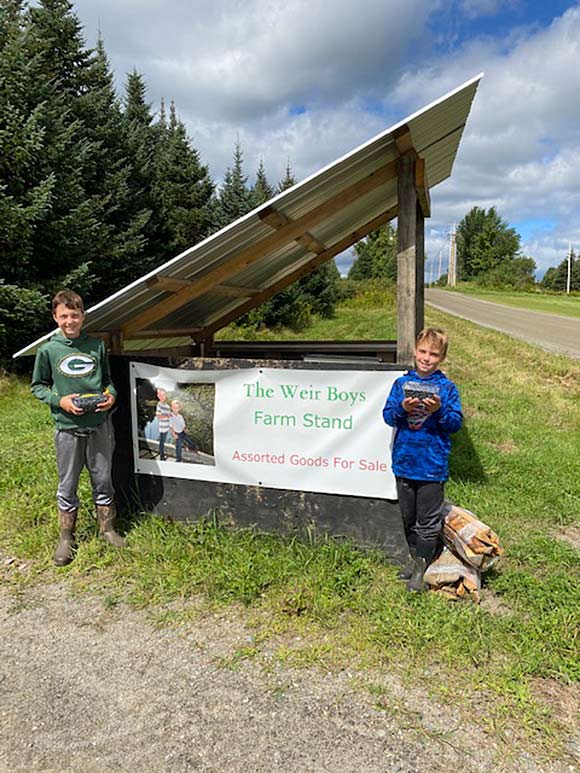 -The Weir Family