News from the Farm
Hello and Happy Summer! The nursery season was very successful thanks to our returning and new customers. The 2018 nursery prices will be set in September and all returning customers will have a price list and order form e-mailed or mailed directly to them. After many years of receiving the same questions concerning the nursery side of our business, we have finally created a Nursery FAQ section and we hope this will make things easier on our customers!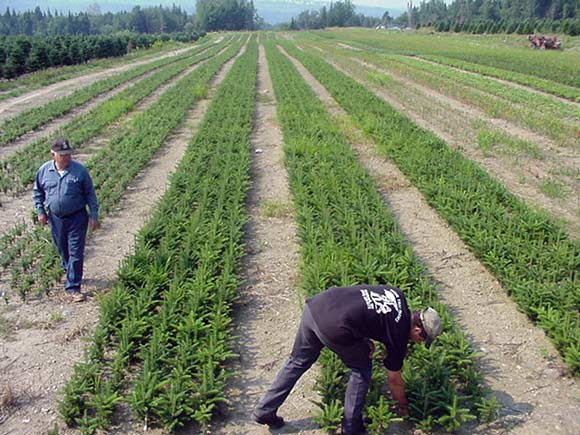 At the end of August, we will be mailing our mail order brochures and the online shopping cart will be up and running on September 1st. You will receive a 5% early order discount if you order before October 15th. As with the nursery side of our business, we have made a concerted effort to improve upon and expand the FAQs we receive concerning mail order trees and wreaths. As always, we pride ourselves on providing excellent customer service and we encourage all of our customers to call or e-mail with any question or concern and they will be immediately addressed. We will have a couple of new wreath designs available this year and we are always willing to address any individual needs you may have in regards to Christmas decorating.
Mail Order FAQs
The 2018 wholesale price lists were just mailed or e-mailed to our returning customers. We would like to thank our returning customers for their continued business. We are offering a 5% discount if you place your order and submit a 30% deposit by June 30th. Please call or e-mail with questions or to request a delivery quote.
Our boys, Jackson and Cooper, are doing great! They are officially fifth and second graders, respectively. Time is really flying by! Jackson is ten years old and now works part time on the farm - filling out his first time card during nursery season. Cooper enjoys riding his four wheeler and caring for the many critters he finds on the farm. They keep us busy and we wouldn't have it any other way. As always, feel free to stop by and visit our farm. We wish you all a Happy and Safe Summer!
The Weir Family